Brokers and Property Managers can rest easy knowing their interests are being protected when they "Think McGowan."
Property managers face special challenges due to the unique nature of their job. From wrongful evictions to tenant discrimination to resident injury, property managers need protections in the face of increased litigation and the troubles that can bring.
Product Overview
Eligible Classes
Property Managers
Community Association Managers
Property Preservationists
Product: Errors & Omissions Insurance
Limits: Up to $5MM
Carrier: "A" Rated Carrier / Admitted Paper
Territory: Nationwide except in Alaska, California, Hawaii, Louisiana and New York
Special Features & Coverages
Claims-Made Policy Form
Incentive for Early Claims Resolution
Expert Witness Coverage
Deductible Reduction Included
60-Day Extended Claims Reporting Period (After Policy Expiration)
Unlimited Defense Costs & Expenses
Broad Definition of "Professional Services"
Broad Definition of "Insured" (Includes "Spouse" or "Domestic Partner")
Management of Owned Property Coverage (Up to 50%)
Confidential Risk Management Hotline – Complimentary
Retiree, Death, or Disability Extended Claims Reporting Period Included
Choice of Attorney (With Company's Consent)
100% Property Management Firms Eligible
First Dollar Defense Available
Optional Construction Development Coverage
Optional Contingent BI/PD Coverage
Partnering with McGowan
With our special ability to use its "Power of the Pen" to craft uniquely tailored insurance policies for real estate appraisers, brokers who partner with McGowan can ensure their clients have the right protections in place for when they need it most. The property managers insurance has a limit of $5 million and has coverages available everywhere in the country except Alaska, California, Hawaii, Louisiana and New York.
Download: Property Managers Marketing Flyer
Download: Property Managers Highlight Sheet
Download: Property Managers Application

Contact: Neil McGowan
---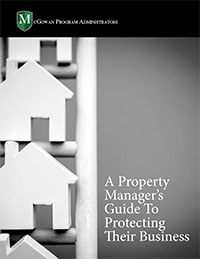 Protect yourself and your business before something goes wrong – download A Property Manager's Guide to Protecting Their Business.